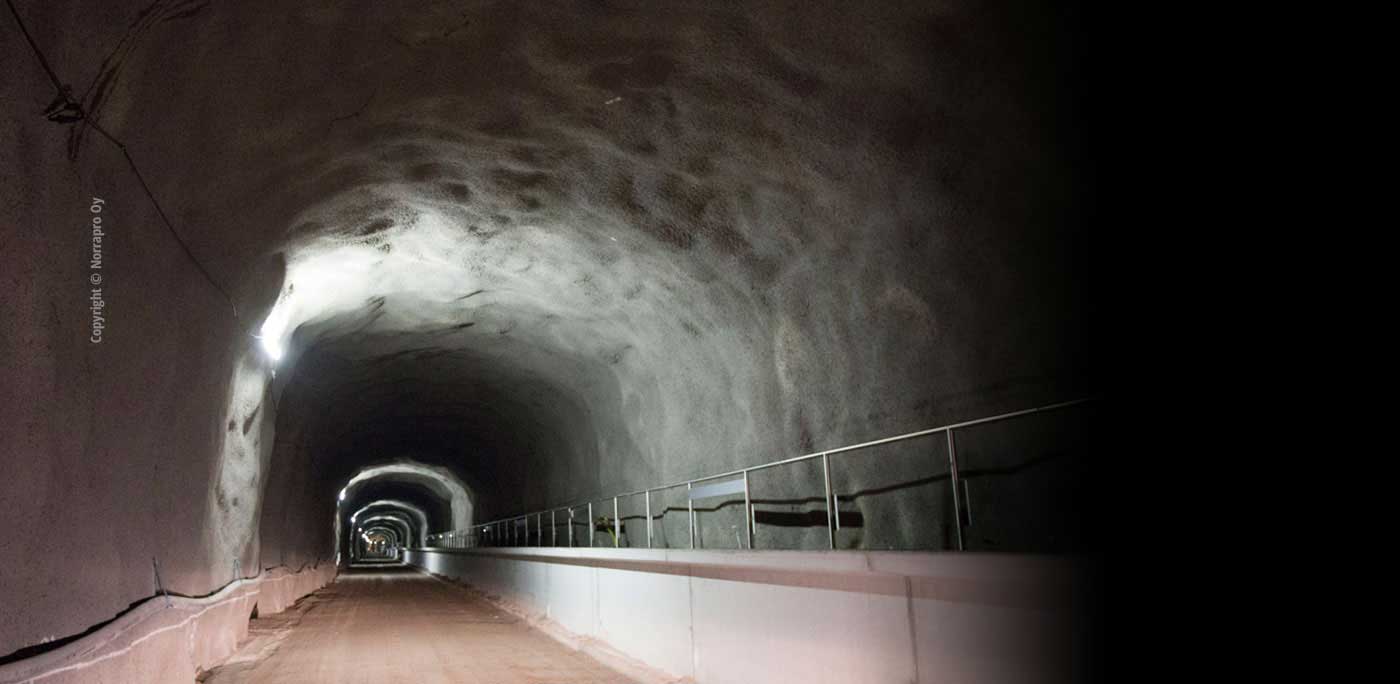 Product
Norrapro® offers an infrastructure to handle flood water
Consultants
You can find more information about the Norrapro® -products for engineering consultants here.
Norrapro® infrastructure delivers a natural way of handling and redirecting flood water within underground facilities.
Underground facilities are valuable investments and their properties should be safely utilizable for as long as possible and without disturbances. Norrapro® infrastructure enables intelligent underground flood water management which is one of the prerequisites for effective underground facility utilization.
FAQ
What does Norrapro do?
Norrapro Oy is a Finnish company specialized in the manufacture and development of excavation products and components. Our background and know-how are based on the company Etelä-Suomen Rakennus- ja Purkutekniikka Oy's established business in the field of Finnish construction operations.
How can I order the Norrapro® -products?
You can find sales contact information here or contact the authorized retailers directly.
Is Norrapro® a certified product?
| | |
| --- | --- |
| Norrapro® is registered trademark and certified product. It is also CE-marked and EPD, Environmental Product Declaration verified. We require an approved quality system of our installation partners.. | |
Is Norrapro® suitable for controlling flood water in old underground facilities?
Norrapro® enables the development of water management systems in connection with the repairs and overhaul of existing underground facilities. For more specific information, please contact our sales team. They will gladly tell you more about the possibilities and methods.
Do you offer installation services as well?
High-standard installation is the key to success. We offer you our product installed by our carefully selected installation partners. Norrapro can even teach your own personnel to carry out the installation of the product.
Where can I find more information about the products?
You can find more information about the products here.
Does the Norrapro® -system require maintenance?
Norrapro® has been developed to protect the constructions for decades. It is possible to carry out inspections on and maintenance procedures to an installed product even after a layer of shotcrete has been deployed. You can get additional information about this feature from our sales team.
Our EHQS-policy
We comply with ISO 9001:2015 and ISO 14001:2015 standards in all our operations
We apply a process-like approach to management
We continuously improve and develop core and support processes through monitoring and measurement, both in terms of efficiency, quality and environmental aspects
To achieve our goals, we invest in the competence of our personnel and partners and in the development of methods
The management of the company undertakes to meet the requirements of the entire organisation according to the scope and nature of the
We actively communicate the objectives and their situation to all our stakeholders
We act responsibly in all our operations and management sets an example with its own commitment to implementing the system
We take into account the requirements of environmental and occupational safety legislation in our operations
The continuous objective is to minimise the environmental impact in all operations
Environmental and occupational safety aspects are identified by process
The starting point is to provide an environmentally sound solution based on customer requirements